Common Mini Militia Problems and How to Fix them (Doodle Army 2 Crash solve)
When you play mini militia on your mobile, you can notice some problems or may you got some Crashing. Such as unfortunately, mini militia has stopped, not working, errors, lags etc. Looking for a solution now, right! It's big frustrating for me when I'm not able to play it on my device and nobody else can.
Yes… you can fix these problems, I am able to fix 85% mini militia problem with a few simple steps.  I was thinking of writing this article when I was suffering from such a problem. I did some internet research with these games and finally, the problem is solved!
List of Mini Militia Problems we will Fix
Well, these are the problems you will encounter more often than not in the Doodle Army 2: Mini militia game.
Unfortunately, Mini Militia has stopped working
Mini Militia is not working on my device.
Player Hanging in Mid-Air (in online play)
Online Multiplayer lag fix
Mini Militia crashing and not responding.
Mini Militia hackers problem
Can't find other players in offline multiplayer
Server problem
Connection lost
Server list in the Custom match does not match.
Quick Play not working
Login problem
Game terminates during play
Pro Player Pack (Solve retrieve issue)
Comment below to add more solution..
Unfortunately, Mini Militia has stopped working
There is one big problem that plagues beginner and advanced Android users alike: the cursed "Unfortunately, Doodle Army 2:Mini Militia has stopped" error message. It appears when you're in the middle of using this game and then forces that game to close. Annoying, right? Fortunately, there is a way to stop it. Here's how to fix Unfortunately, Mini Militia has stopped working.
Open Settings on your android device.
Go to Developers Option. If you don't see developers option in settings, then activate developers option.
The developer option will get activated.
In developer options, you will find "Don't Keep Activities".
Most probably it will be checked, so simply unchecked it.
Now start your app or game again and it will definitely work.
Sometimes during the download and installation process, some files may be disrupted. The best solution for these questions is to reinstall the application. Otherwise, there may be an update that was not installed, which had major problems resolved. Installing the application from a third-party Web site may cause the disruption. Install Doodle Army 2: Mini Militia Apk from minimilitiahackmod.com or from Google Play store.
If it does not work then at below for more guide…
Player Hanging in Mid-Air
With each Mini Militia hack, there are almost always some associated problems, be it its bugs or pips. Pro Pack, Double Gun Hack also faces a problem where other players hang mid-air when your double avatar exercises some of the weapons present in the game. Sometimes the guns also stop working and the Mod freezes. This bug occurs in both versions with and without unlimited ammunition.
Mini Militia is facing this problem on selected devices that work on older Qualcomm smartphones. With the next version of Doodle Army 2, we expect the issue to be resolved.
How to Fix Online Offline Multiplayer lags:
Sometimes they fly in the Mid-air and do not die on shooting, and after a few seconds, he and you are dead. It's a frustrating time.
I've played that on LAN multiplayer using Mobile Hotspot and there was little lag when more than 4 players joins.. I tried to contact with DA2 but no respond, not only on my device but also my friend had this device too and facing the same problem.
The reason behind this problem is slow internet connection to your's over your opponents. Doodle Army 2 Mini Militia requires a constant data rate of ~ 20 Kbps. When you shoot at your opponent who has a slow connection, he can not report it in his request and before downloading the details of his death he throws you. The result is you two losing points.
The solution to this problem is to pull the player hanged enough that he will die after getting the connection and moving to another location away from the spot instantly.
Offline multiplayer offsets are caused due to the incapability of the hosting smartphone to manage and manage multiple devices. The solution is to ask a person a better device than the rest of you to create a connection and a host. Even if you can connect 12 players, but something more than 6-8 will cause lags.
One of the errors in which players hang in the air causing lags and such issues. The first step is to stay calm. I know you desperately wait until it starts to work perfectly. Do each of the method mentioned below to resolve the issues.
Delete app data on app storage to Solve all issues mentioned above
This problem often arises with game data cache. The procedure for solving this problem is generally always the same. Removing these files and letting the game create fresh one may work in rare chances to fix. To clear Mini Militia's cache.
First, go to Settings on your device.
Go to Apps> App Manager
Swipe left until you find the All tab.
Scroll to the application that is causing problems, and press it.
Here you will find Clear data and Clear cache options.
If clearing cache and data don't help, it's time to move on to the next fix. But remember clearing data will remove all your game settings like your purchased store items list, your custom avatar, and temporarily you rank and EXP. The becomes exactly as when you downloaded it.
Move to Internal Memory to Solve Slow and lagging performance.
The reason most applications prefer the internal memory for installation is speed. In general, SD cards are slower than the internal memory, so the CPU must wait longer to retrieve and process data from the internal memory. If you have moved the application to an SD card, erase the space in internal memory and reset it.
To move Mini Militia game to Internal Memory Using Application Manager:
Navigate to Settings on your phone.
Tap Apps
Select Mini Militia to move to the Internal Memory
Tap Storage (If you wish to move an app back to the SD card, hit the Change button again and select SDcard.)
Now Tap on Change
Tap Move
It's default Supported on Samsung, HTC, Google Pixel etc devices. But, If you are HUAWEI, LG, XIAOMI, ASUS with Android 6+ user then do not need to move the Internal Memory. Because, the manufacturers have not supported it.
 Server list in Custom Mode Do not match
Are you facing Server list problems in Custom Mode? The list of servers in custom mode does not match that of the list of other players. This incompatibility occurs because of the difference in the version number of Doodle Army 2: Mini Militia on both devices.
If you are faced with such a problem that you and your friends have to update the game or both must download the same version of Mini Militia. Once both devices are running on the same build, you'll find that the list of servers is exactly the same as the other players.
With the current version, the server list contains the following entries:
New Players
Team Matches
Pro Players
Free For All
Battlezone India 1
Clan Matches
Battlezone India 2
Battlezone US
Battlezone England, Malaysia, Germany etc.
To Solve Connection lost, Login problems and players not found
Reset app preferences with the default settings for all disabled apps, disable notifications to the app, default Applications for actions, the restrictions of background data for applications and any permission restrictions. You will not lose any data from the application by this method.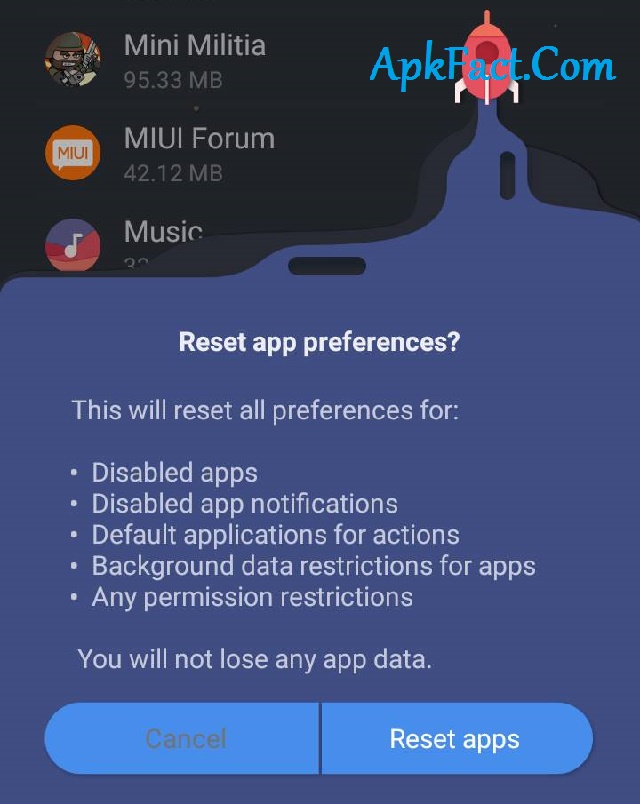 How to Reset app preferences:
Go to settings on your Android phone
Scroll down to Installed apps and go here
Tap on "More" (See bottom/left top corner to find out it)
Tap on "Reset app preferences"
Go ahead and click "Rest apps"
Server Problems: Failed to load online server list
Sometimes, in the game of quick and customs mode, you continue to see "Trying server…" and Server List Failed. This happens when you are on a slow speed connection or DA2's Overloaded server. Then try to fix it, tap the RETRY button and wait for server load. If you do not think the connection is the problem, you can try to change your APN settings on your phone. Sometimes developers can keep servers for the next major upgrade, in this case, you will not be able to connect to other online players Mini Militia.
Pro Player Pack (Solve retrieve issue)
Your Mini Militia's Pro Pack not working after buying pro pack from game section. Normally, It happened when you have uninstalled the game. Again, when you open the game and you try to activate the Pro Pack again, a pop-up message comes in 'Validation Fail'. Finally, you can not retrieve the Pro Pack.
OKAY. After buying a professional pack in Mini Militia, it's not like you're done. We know that the pirated and false versions of the pro pack are currently running. So, what should be done to remove these pirated versions?
Mini Militia's team has found (from 2.2.58) out the way in which they can restrict the illegal users by signing in to your Gmail account every time you open the game.
So if you're a genuine player and you want to claim your pro pack, you must follow the steps below:
Open your google play games app and from their run the Mini Militia game.           OR
Directly open the game and go to settings and then select avatar. In that bottom right corner click on Awards in which Google will sign in and then you will have all the powers of pro pack.
Remember to follow any 1 step before starting the game.
Factory Data Reset (It's Final Resorts)
Whatever device you have, over time your Android operating system can start making things you do not want – like crush, running slower than you like or kill your pets.  We can not do much as the last, but for everything else, a factory reset might do the trick. Backup and reset will improve the performance of your device to playing Mini Militia.
Note: Performing Factory Data Reset will delete your entire data excluding apps, photos, and music(Except SD card). So we suggest you back up your device first.
Previously, you can also try these methods:
Turn off power saver as it reduces device performance.
For smooth operations always start the application after clearing the RAM junk.
To perform a factory reset, follow these steps:
Go to Settings
Go to Personal> Backup and Reset
Enter your password or PIN code if asked
Make sure System Restore is enabled
Data Tap Factory Reset> Reset Phone
Again, you may be prompted for your password or PIN code here
Press Delete All
Select Reboot and enjoy lag-free Mini Militia.
Last word.
If the problem needs immediate attention, we will contact Appsomanics regarding the same (I will suggest you contact via Google Play Store review section). We will not be able to cover all the problems of Mini Militia Games. So you can comment, we'll monitor and make sure we will test it and fix it here for you in the Mini Militia Help Center. Lastly, if you like it, share the post with your friends. 😛